Compounding Pharmacy West Hollywood is a family-owned pharmacy that services the greater Los Angeles area.  They focus on traditional and compounded medications; which involves mixing and altering the ingredients of a drug to create a prescription that is tailored to the specific needs of a patient.  West Hollywood Compounding Pharmacy is conveniently located at 9033 Wilshire Blvd., #102 Beverly Hills, CA 90211.
As a local, family-owned institution, West Hollywood Compounding Pharmacy is able to provide a personalized experience that is unavailable at chain pharmacies like CVS and Rite-Aid.  We pride ourselves on delivering quality customer-service to all of our patients; our goal is to exceed all of your expectations when it comes to pharmaceutical services.
To provide all of you with an excellent experience, we hire only experienced and qualified pharmacists who dedicate their careers to patient care.  All RX plans are accepted at our pharmacy, along with discount cards.  We guarantee that your prescription will be filled quickly with our ten-minute fulfillment windows.
Erick Khaimoff, PharmD and Ellie Behrooznia, PharmD lead our team of experienced pharmacists and technicians at Compounding Pharmacy West Hollywood.  Our number one priority is your health and satisfa
ction; our team will take care of all of your prescription needs so that you don't have to worry.
Feeling too sick to leave your house?  No problem, because we offer free delivery to local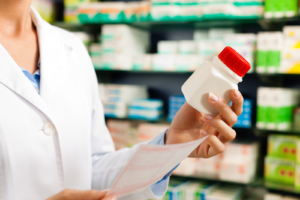 residents!
Compounding Pharmacy West Hollywood Hours
Monday: 9:00am to 5:00pm
Tuesday: 9:00am to 5:00pm
Wednesday: 9:00am to 5:00pm
Thursday: 9:00am to 5:00pm
Friday: 9:00am to 5:00pm
Saturday: Closed
Sunday: Closed