Compounding Pharmacy near Santa Monica is a full-service pharmacy that serves patients in Santa Monica and surrounding cities.  We offer pharmaceutical services in both traditional and compounded medications.  Our compounded prescriptions are specially formulated to an individual's exact medication needs, which makes them great for those who need alternative ways to ingest their prescription.  This compounding pharmacy near Santa Monica is conveniently located at 9033 Wilshire Blvd., #102 Beverly Hills, CA 90211.
We pride ourselves on providing you with the highest level of customer service possible.  In order to offer you an easy and convenient pharmacy visit, we happily accept all Rx plans and discount cards.  Free parking is offered with validation, and we guarantee that your prescription will be filled in ten minutes or less so that you're never left waiting.
As a local, family-owned pharmacy, we are able to offer a personal feel that is unmatched by big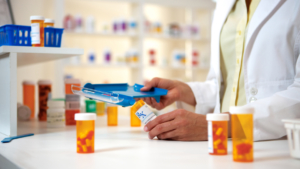 chains like Rite-Aid and CVS.  Our goal at our compounding pharmacy near Santa Monica is to not only meet but also exceed your expectations.  In order to do that, we promise to provide excellent customer service and superior products.
Our team of experienced pharmacists and technicians are led by Erick Khaimoff, PharmD and Ellie Behrooznia, PharmD. Together they have over 40 years of experience in pharmaceuticals.  Everyone here has dedicated their careers to providing excellent health care to all of our patients.
Feeling too sick to get out of bed? That's no problem because we offer free delivery to local patients!
Compounding Pharmacy Near Santa Monica Hours
Monday: 9:00am to 5:00pm
Tuesday: 9:00am to 5:00pm
Wednesday: 9:00am to 5:00pm
Thursday: 9:00am to 5:00pm
Friday: 9:00am to 5:00pm
Saturday: Closed
Sunday: Closed